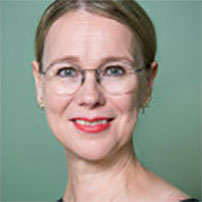 Dr. Susanna Pettersson
2019 SPS SPEAKER
Director General, Nationalmuseum
Dr. Susanna Pettersson, Director General at Nationalmuseum, Sweden, is an art historian specializing in museum history and collection studies. Before moving to Stockholm, she worked as Director of the Ateneum Art Museum, Finnish National Gallery.
Dr. Pettersson has worked for more than twenty years in museums. Her posts have included Director of the Finnish Institute in London, Director of the Alvar Aalto Foundation and Museum and Director of Development at the Finnish National Gallery. She is also Adjunct Professor in Museology at the University of Jyväskylä, Finland, and Associate Professor at the Reinwardt Academy in Amsterdam, the Netherlands.
She is a founding member if the Iconic Houses Network (www.iconichouses.org) and has participated in several national public governance and international working groups such as European Union's OMC working group on Collections Mobility (2008-2010). Dr. Pettersson's research interests include museum history, collection studies, history of art history as well as 19th -century and modern art, and she publishes widely. She's Vice-Chair of the Aalto University Board (Finland), President of the Board of the Finnish Institute in Japan and board member at the Prins Eugens Waldemarsudde (Sweden).