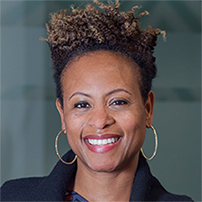 Brandee Butler
2019 SPS SPEAKER
Division Director at the Open Society Initiative for Europe
Brandee M. Butler is a Division Director at the Open Society Initiative for Europe.  Based in Barcelona, she leads the Civil Liberties Division, which promotes better policing and more effective security policies, supports efforts to hold governments to account, and combats discrimination against marginalized religious and ethnic communities.  Brandee has over 15 years of experience working with international foundations, civil society organizations, and the private sector to promote human rights.  Before joining OSIFE, she was Head of Gender Justice and Human Rights at C&A Foundation in Amsterdam leading programming on modern slavery and gender justice in fashion supply chains.
Earlier in her career, Brandee was awarded the Yale Law School Bernstein Fellowship for International Human Rights to combat child trafficking in Gabon.  She later practiced law at a children's rights organization in Los Angeles and specialized in international justice as a program officer at the John D. and Catherine T. MacArthur Foundation.
Brandee currently serves on the boards of women's rights organizations MADRE and Women Win and is an advisor for ARTWORKS Projects, which uses design and the arts for human rights advocacy.  She received a bachelor's degree from Harvard University and a juris doctorate from Yale Law School.